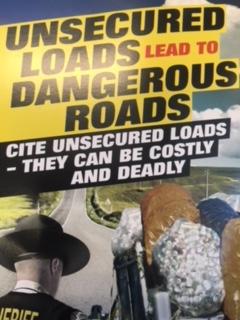 UNSECURED LOADS LEAD TO DANGEROUS ROADS
To Be Secured, Loads Should Be:
Tied down with rope, netting or straps
Tied directly to the vehicle or trailer
Covered entirely with a sturdy tarp or netting
Not overloaded
Packed with lighter weight items at the bottom and evenly distributed to prevent them from sliding.
ENSURE THE VEHCILE IS PROPERLY MAINTAINED
Worn or underinflated tires can result in blowouts that leave dangerous pieces of tire in the roadway.
Rusted and corroded hardware can cause mufflers and other parts to drag and break loose.
National Sheriff's Association